Surrender Your Need to Always Be Right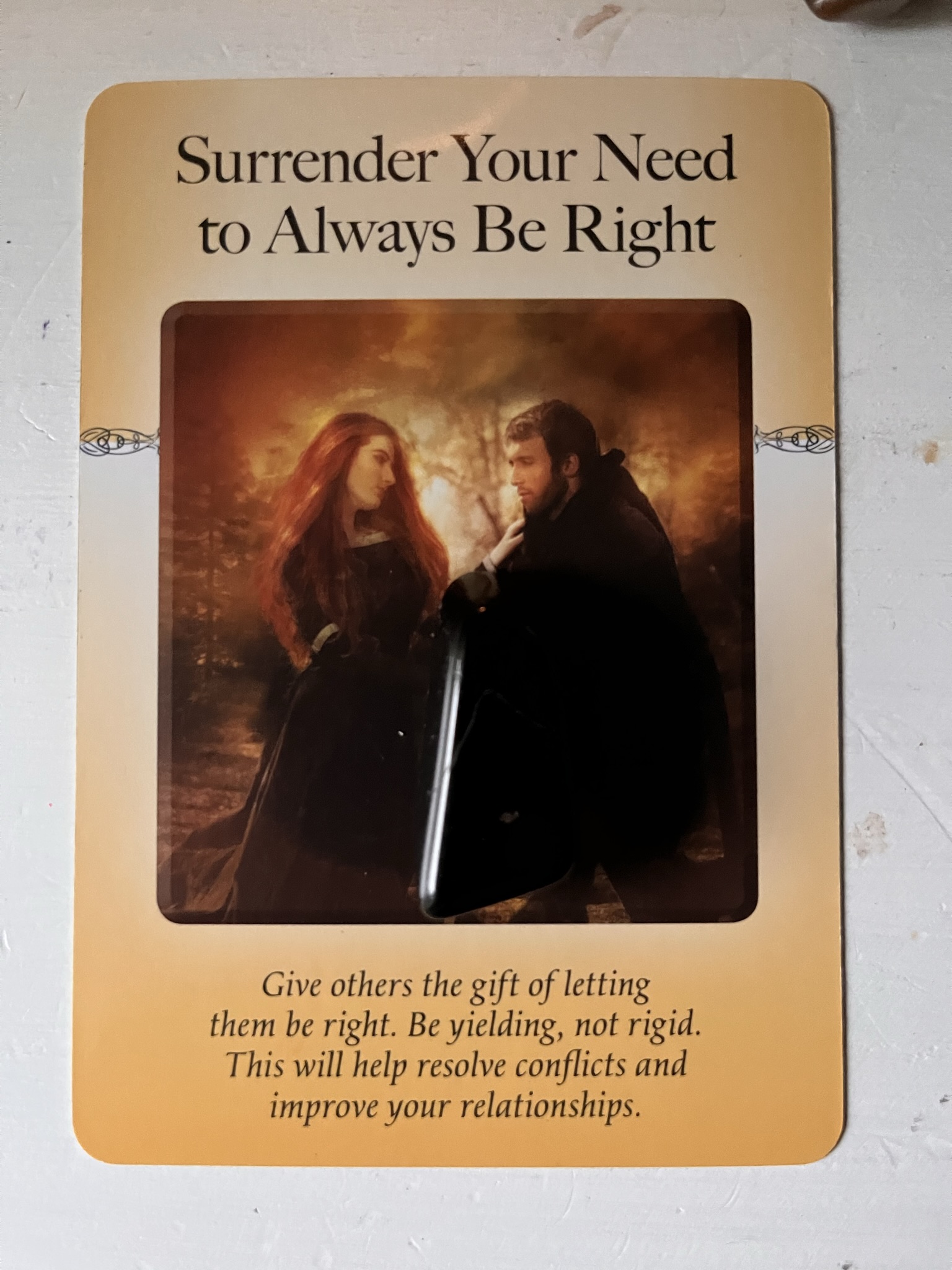 Surrender Your Need to Always Be Right
Give others the gift of letting them be right. Be yielding, not rigid.  This will help resolve conflicts and improve your relationships.
Surrendering your need to always be right involves embracing humility, flexibility, and a willingness to listen to and consider the perspectives of others. By letting go of the need to be right and allowing others to express their viewpoints, you can resolve conflicts more effectively and foster healthier, more harmonious relationships. Here are some strategies for surrendering your need to always be right:
Cultivate self-awareness: Develop an understanding of your own patterns, beliefs, and motivations that contribute to the desire to be right. By recognizing these tendencies, you can work to change your behavior and approach to disagreements or conflicts.
Practice active listening: When engaging in conversations or debates, focus on truly hearing and understanding the other person's perspective. This will help you develop empathy and open-mindedness, allowing for more productive and respectful discussions.
Value relationships over being right: Recognize the importance of maintaining healthy, harmonious relationships and prioritize connection over winning an argument. By valuing your relationships, you can create a more supportive and nurturing environment for all parties involved.
Be open to alternative perspectives: Acknowledge that there may be multiple valid viewpoints and approaches to a given situation. By being open to alternative perspectives, you can foster a more inclusive and collaborative atmosphere.
Embrace humility: Recognize that you are not infallible and that your opinions and beliefs may not always be correct. By embracing humility, you can approach disagreements with a more open mind and willingness to learn from others.
Practice empathy: Put yourself in the other person's shoes and try to understand their feelings, thoughts, and motivations. This will help you develop compassion and understanding, allowing you to approach conflicts with a more open and receptive mindset.
Focus on solutions, not winning: When faced with conflicts or disagreements, shift your focus from proving your point to finding a solution that works for everyone involved. This collaborative approach can help resolve conflicts more effectively and maintain positive relationships.
Pick your battles: Recognize that not every disagreement or conflict is worth engaging in. Choose your battles wisely and be willing to let go of the need to be right in situations where it is not crucial or productive.
Be willing to apologize: If you realize that you were wrong or that your insistence on being right has caused harm, be willing to apologize and make amends. This demonstrates humility, accountability, and a genuine desire to maintain healthy relationships.
Practice patience and understanding: Remember that everyone has their own unique perspectives, beliefs, and experiences that shape their viewpoints. Be patient and understanding with others, even when you disagree, and strive to create a respectful and inclusive environment for all.
By surrendering your need to always be right, you can foster healthier, more harmonious relationships built on mutual respect, understanding, and open-mindedness. This approach allows for more effective conflict resolution and a greater sense of connection and collaboration with others.
YouTube - Morning Compass Surrender
Get Your Own Surrender Cards
Try to buy local, if not available use the link below: