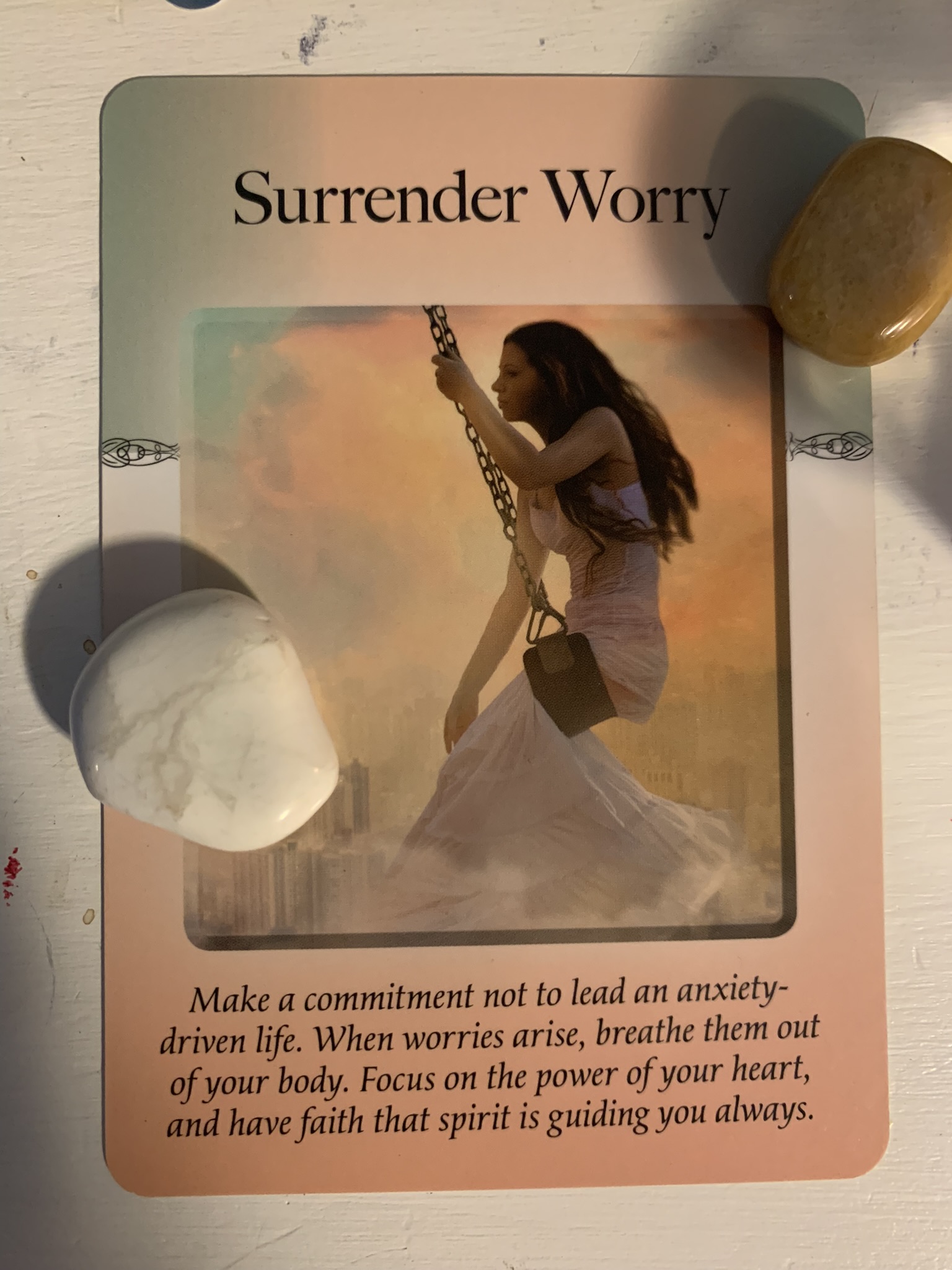 Surrender Worry
Make a commitment not to lead an anxiety-driven life. When worries arise, breathe them out of your body. Focus on the power of your heart,
and have faith that spirit is guiding you always.
Surrendering worry involves releasing the constant cycle of anxiety and fear that can consume your thoughts and negatively impact your well-being. By letting go of worry, you can cultivate a more balanced, peaceful mindset, and trust that you are guided and supported through life's challenges. Here are some strategies to help you surrender worry and embrace a more faith-driven life:
Practice mindfulness: Mindfulness is the act of being present and fully engaged in the current moment, without judgment. By focusing on the present, you can shift your attention away from worries about the past or future and cultivate a sense of peace and acceptance.
Breathing techniques: When worries arise, use deep breathing exercises to help release anxiety and tension from your body. Inhale slowly, focusing on filling your lungs with air, and then exhale, visualizing the release of your worries as you breathe out.
Challenge your worries: Analyze your worries and assess their validity. Ask yourself if your fears are based on fact or assumptions, and consider the worst-case scenario, best-case scenario, and most likely outcome. By confronting your worries, you can gain perspective and rationalize your thoughts.
Focus on your heart: Redirect your attention to the power of your heart and its ability to guide and support you. This can help you build trust in yourself and cultivate a sense of faith that you are capable of overcoming obstacles and navigating life's challenges.
Create a worry-free zone: Dedicate a specific time and place in your daily routine for worry-free relaxation. This can be a designated area in your home or a specific time of day when you intentionally set aside your worries and focus on activities that bring you joy and relaxation.
Cultivate gratitude: Shift your mindset from worry to gratitude by focusing on the positive aspects of your life. Reflect on the things you are grateful for, such as your health, relationships, or accomplishments, to help reduce anxiety and promote a more optimistic outlook.
Maintain a support network: Surround yourself with supportive and understanding people who can offer guidance, reassurance, and encouragement when you are feeling worried. Sharing your concerns with others can help alleviate your anxiety and provide a fresh perspective on your challenges.
Develop a spiritual practice: Engage in spiritual practices, such as prayer, meditation, or connecting with nature, to help you cultivate a sense of faith and trust in a guiding force. This can help you release your worries and feel more supported and at peace.
Seek professional help: If your worries become overwhelming or persistent, consider seeking support from a mental health professional. They can help you develop effective coping strategies to manage anxiety and worry more effectively.
By surrendering worry, you can make a conscious choice to lead a life that is not driven by anxiety and fear. Embracing mindfulness, focusing on your heart, and cultivating a sense of faith in your guiding spirit can help you overcome worry and embrace a more peaceful, balanced life.
YouTube - Morning Compass Surrender
Get Your Own Surrender Cards
Try to buy local, if not available use the link below: