Surrender to Your Full Power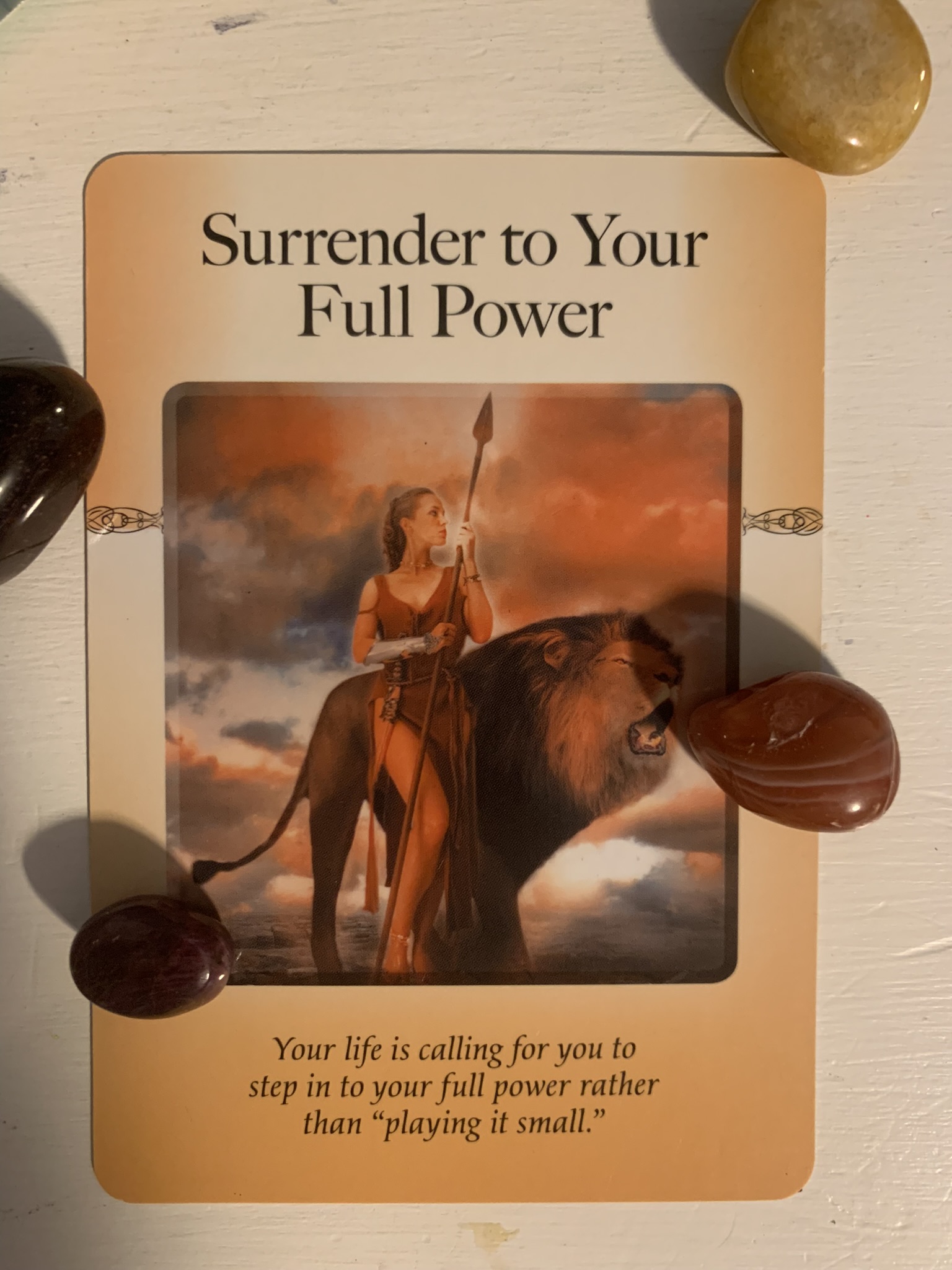 Surrender to Your Full Power
Your life is calling for you to step in to your full power rather than "playing it small."
Surrendering to your full power involves embracing your potential, strengths, and talents, and letting go of any limiting beliefs or fears that hold you back. By stepping into your full power, you can live a more authentic, fulfilling life and make a positive impact on the world around you.
Here are some strategies to help you surrender to your full power and stop "playing it small"
Identify your strengths: Take time to reflect on your unique skills, talents, and abilities. Recognize and embrace your strengths, and consider how you can utilize them to create a more fulfilling and purposeful life.
Overcome limiting beliefs: Identify any beliefs or thought patterns that may be holding you back from realizing your full potential. Challenge these beliefs and replace them with more empowering thoughts and affirmations.
Set ambitious goals: Create a vision for your life that aligns with your values and aspirations. Set ambitious, yet achievable goals that inspire and motivate you to push beyond your comfort zone and strive for greatness.
Take calculated risks: Be willing to take risks in pursuit of your dreams and goals. While it's essential to be mindful of potential pitfalls, don't let fear prevent you from taking bold action and pursuing your passions.
Cultivate self-confidence: Build your self-confidence by celebrating your achievements, learning from your mistakes, and consistently pushing yourself to grow and improve. With greater self-confidence, you'll be better equipped to step into your full power.
Develop resilience: Learn to bounce back from setbacks and disappointments by cultivating a resilient mindset. Embrace challenges as opportunities for growth, and maintain a positive outlook even in the face of adversity.
Surround yourself with positive influences: Connect with people who inspire, support, and challenge you to reach your full potential. By surrounding yourself with positive influences, you'll be more likely to stay motivated and focused on your goals.
Invest in personal growth: Prioritize your personal development by seeking opportunities to learn, grow, and expand your skillset. This can include reading books, attending workshops, or seeking mentorship from individuals who have achieved success in your area of interest.
Embrace your authenticity: Be true to yourself and honor your unique values, beliefs, and passions. By living authentically, you can more fully step into your power and create a life that reflects your true essence.
Give back: Share your gifts, talents, and resources with others, and seek opportunities to make a positive impact on the world. By using your power to benefit others, you'll not only experience greater fulfillment but also inspire those around you to do the same.
By surrendering to your full power, you can break free from the constraints of playing it small and create a life that aligns with your true potential. Embracing your strengths, overcoming limiting beliefs, and investing in personal growth are essential steps in stepping into your full power and making a meaningful impact on the world around you.
YouTube - Morning Compass Surrender
Get Your Own Surrender Cards
Try to buy local, if not available use the link below: