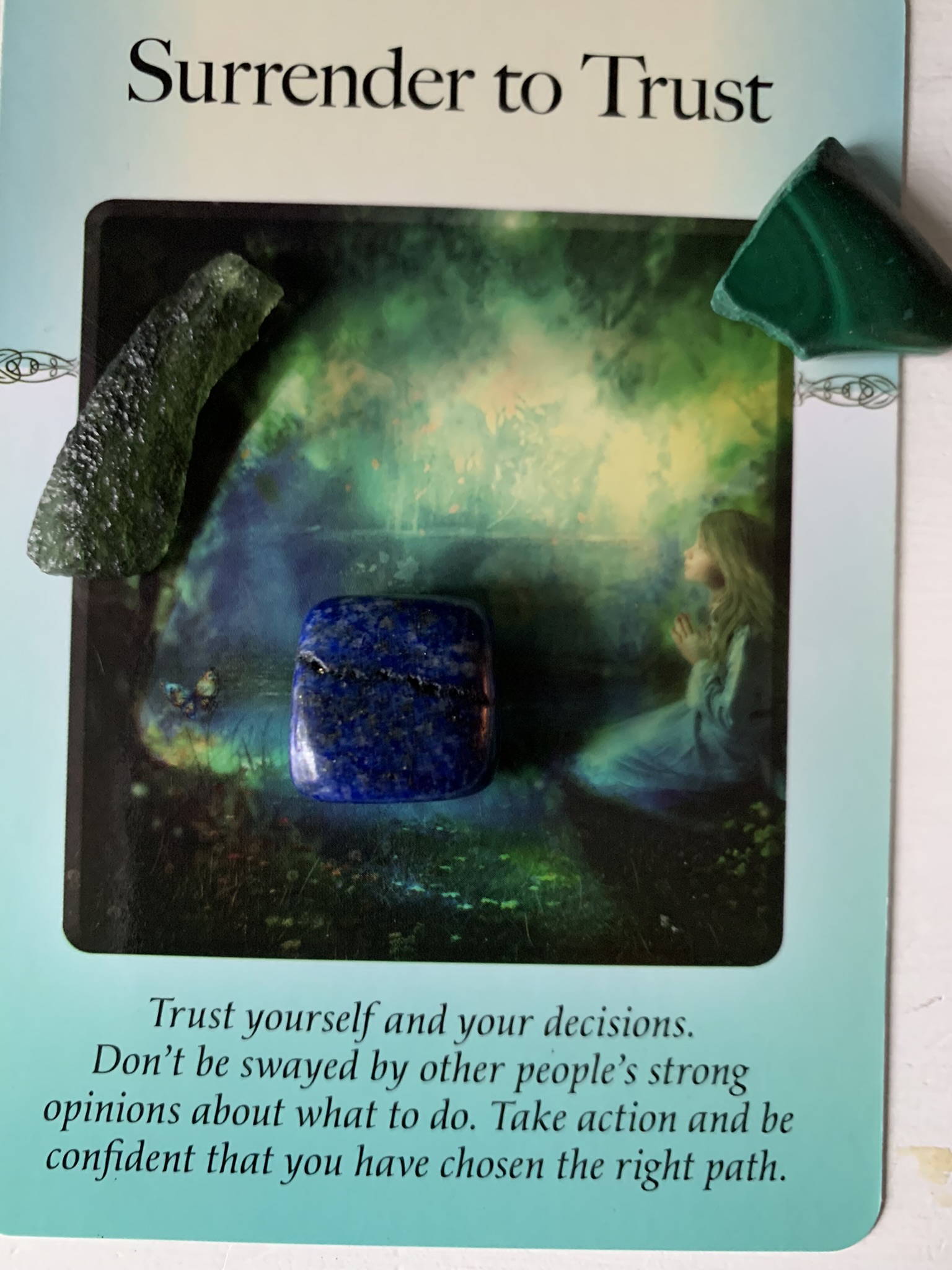 Surrender to Trust
Trust yourself and your decisions.
Don't be swayed by other people's strong opinions about what to do. Take action and be confident that you have chosen the right path.
Surrendering to trust involves having faith in yourself, your decisions, and your chosen path, even when faced with external pressures or differing opinions. By trusting your instincts and abilities, you can navigate life with confidence and resilience. Here are some strategies for surrendering to trust:
Cultivate self-awareness: Develop a deep understanding of your values, beliefs, strengths, and weaknesses. This self-awareness can help you make informed decisions that align with your true self and provide a strong foundation for trusting your choices.
Listen to your intuition: Pay attention to your gut feelings, inner voice, and intuitive insights when making decisions. Trusting your intuition can provide valuable guidance and reassurance that you're on the right path.
Embrace self-confidence: Believe in your ability to make sound decisions and to learn from any mistakes that may arise. By cultivating self-confidence, you can approach life with greater assurance and resilience.
Set boundaries: Learn to assertively communicate your needs, preferences, and decisions to others, even when they may not agree. Establishing healthy boundaries can help you protect your choices and maintain a sense of trust in yourself.
Be adaptable: Recognize that life is filled with unexpected changes and challenges. By remaining flexible and adaptable, you can trust your ability to navigate these obstacles and adjust your course as needed.
Seek feedback, but trust your judgment: While it's essential to consider the perspectives and advice of others, remember that you have the final say in your decisions. Be open to feedback, but ultimately trust your judgment and make choices that align with your values and goals.
Reflect on past successes: Remind yourself of previous situations where you trusted yourself and made successful decisions. This reflection can help reinforce your faith in your abilities and judgment.
Practice self-compassion: Treat yourself with kindness and understanding, recognizing that nobody is perfect, and we all make mistakes. By practicing self-compassion, you can maintain trust in yourself even when things don't go as planned.
Surround yourself with supportive people: Seek out friends, family members, or mentors who support and encourage your decisions and trust in yourself. This positive environment can help reinforce your confidence and self-trust.
Take action: Trusting yourself also means taking action on your decisions and choices. By following through on your plans and staying committed to your path, you can demonstrate your trust in yourself and your chosen direction.
Surrendering to trust involves having faith in yourself, your decisions, and your ability to navigate life's challenges. By cultivating self-awareness, confidence, and resilience, you can confidently pursue your goals and dreams, even when faced with external pressures or differing opinions. Trusting yourself allows you to live an authentic, fulfilling life, guided by your values and aspirations.
YouTube - Morning Compass Surrender
Get Your Own Surrender Cards
Try to buy local, if not available use the link below: