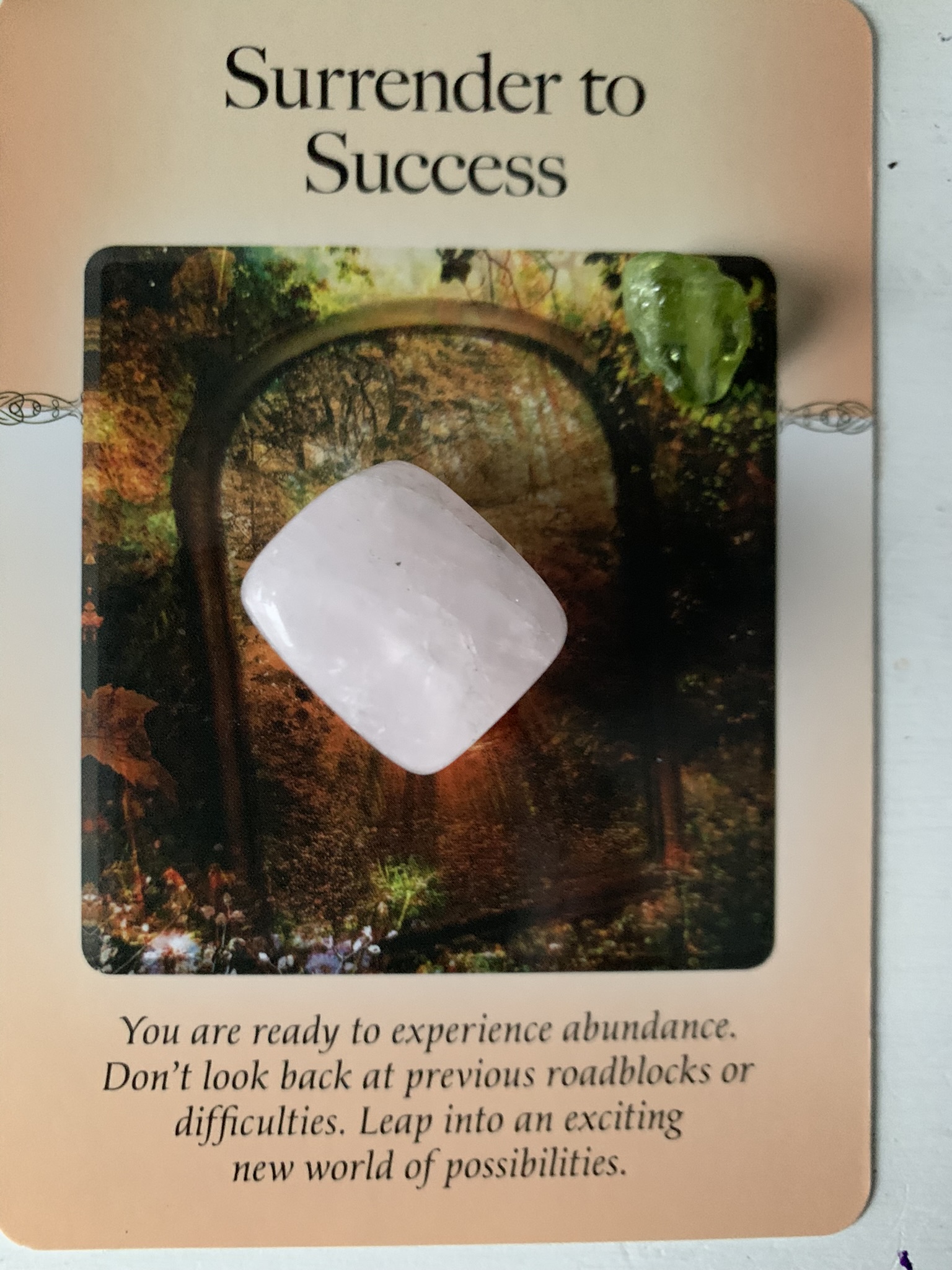 Surrender to Success
You are ready to experience abundance.  Don't look back at previous roadblocks or difficulties. Leap into an exciting new world of possibilities.
Surrendering to success involves embracing the belief that you are deserving of abundance and prosperity in all aspects of your life. This mindset encourages you to let go of past setbacks, fears, and self-limiting beliefs, and to fully immerse yourself in the opportunities that lie ahead. Here are some strategies to help you surrender to success and unlock your potential:
Cultivate a growth mindset: Adopt the belief that you can continuously develop and improve through dedication, effort, and learning. Embrace challenges as opportunities for growth, and view setbacks as valuable learning experiences.
Practice gratitude: Focus on the positive aspects of your life by regularly expressing gratitude for your achievements, relationships, and experiences. This can help shift your mindset to one of abundance and positivity.
Set clear goals: Establish specific, measurable, achievable, relevant, and time-bound (SMART) goals for various aspects of your life, including career, relationships, and personal development. Having clear objectives can help guide your actions and maintain focus on your path to success.
Develop a plan of action: Break down your goals into smaller, manageable steps and create a detailed action plan to achieve them. This will help you stay organized, track your progress, and maintain momentum towards your desired outcomes.
Embrace risk-taking: Recognize that some level of risk is necessary for growth and progress. Be open to stepping out of your comfort zone and pursuing new opportunities, even if they involve uncertainty or potential failure.
Surround yourself with positivity: Build a network of supportive, like-minded individuals who share your aspirations and encourage your success. Positive influences can help keep you motivated and inspired as you pursue your goals.
Learn from past experiences: Reflect on previous roadblocks or difficulties and analyze the lessons they have taught you. Use this knowledge to make more informed decisions, avoid repeating mistakes, and better navigate future challenges.
Celebrate your achievements: Take the time to acknowledge and celebrate your accomplishments, both big and small. This practice reinforces the belief that you are deserving of success and helps maintain motivation for future endeavors.
Invest in self-improvement: Continuously seek opportunities for personal and professional growth, such as attending workshops, reading books, or pursuing additional education. This commitment to self-improvement can help you stay ahead of the curve and maximize your potential.
By surrendering to success, you open yourself up to a world of possibilities and give yourself permission to thrive. Embracing a growth mindset, setting clear goals, and surrounding yourself with positivity are just a few strategies that can help you overcome past challenges and reach new heights of achievement.
YouTube - Morning Compass Surrender
Get Your Own Surrender Cards
Try to buy local, if not available use the link below: