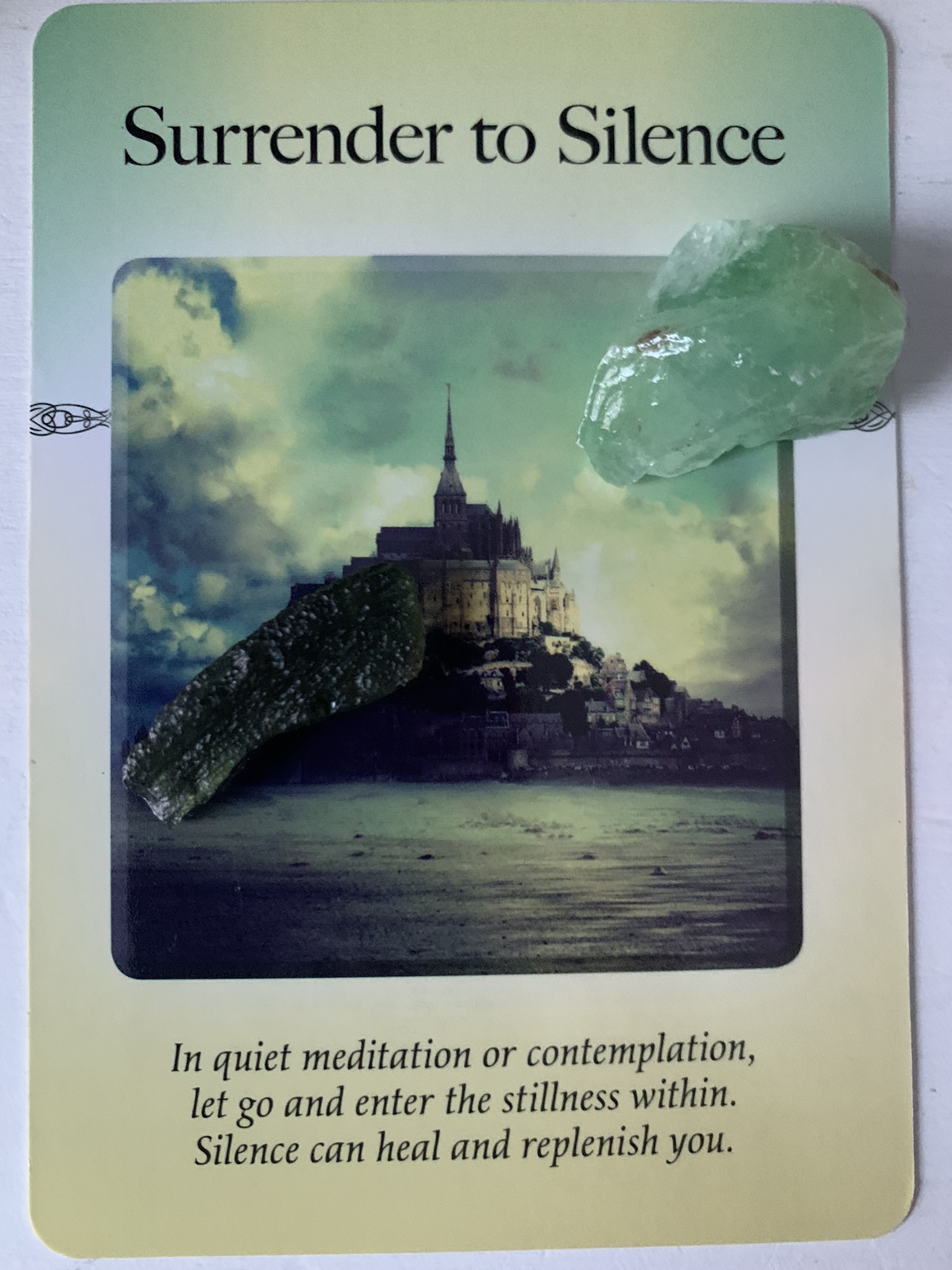 Surrender to Silence
In quiet meditation or contemplation, let go and enter the stillness within.  Silence can heal and replenish you.
Surrendering to silence is the practice of embracing quietness and stillness in order to cultivate mindfulness, inner peace, and self-awareness. In our fast-paced, modern world, noise and distractions are constant, making it essential to find moments of silence for self-reflection and mental well-being. Here are some ways to surrender to silence and incorporate it into your daily life:
Create a quiet space: Dedicate a specific area in your home or workplace for silence and relaxation. This space should be free from distractions, such as electronic devices, and should promote a sense of calm.
Practice mindfulness meditation: Mindfulness meditation is a technique that involves focusing your attention on the present moment, your breath, and the sensations in your body. By doing so, you can quiet your mind and become more attuned to the silence within and around you.
Disconnect from technology: Set aside designated periods each day to disconnect from your electronic devices, such as smartphones, computers, and televisions. This will help you be more present in the moment and experience the benefits of silence.
Engage in solitary activities: Pursue hobbies or activities that allow you to be alone with your thoughts, such as reading, writing, painting, or walking in nature. These activities can help you become more comfortable with silence and enhance your self-awareness.
Practice deep listening: Deep listening involves fully focusing on the sounds and words of others without judgment or the need to respond. This practice can help you cultivate empathy, improve communication, and connect more deeply with others.
Embrace moments of stillness: Throughout your day, find opportunities to pause and be still, even if just for a few moments. You can use these moments to take a few deep breaths, observe your surroundings, and center yourself.
Develop a daily silence ritual: Establish a routine that incorporates silence into your everyday life, such as starting or ending your day with a few minutes of quiet reflection or meditation.
Attend silent retreats: Participate in silent retreats or workshops that emphasize the importance of silence and provide a structured environment for deepening your practice.
By surrendering to silence, you can develop greater self-awareness, improve your emotional well-being, and enhance your ability to cope with stress and anxiety. Learning to embrace silence can lead to a more balanced and peaceful life, as well as a deeper connection with yourself and others.
YouTube - Morning Compass Surrender
Get Your Own Surrender Cards
Try to buy local, if not available use the link below: