Surrender to Setting Limits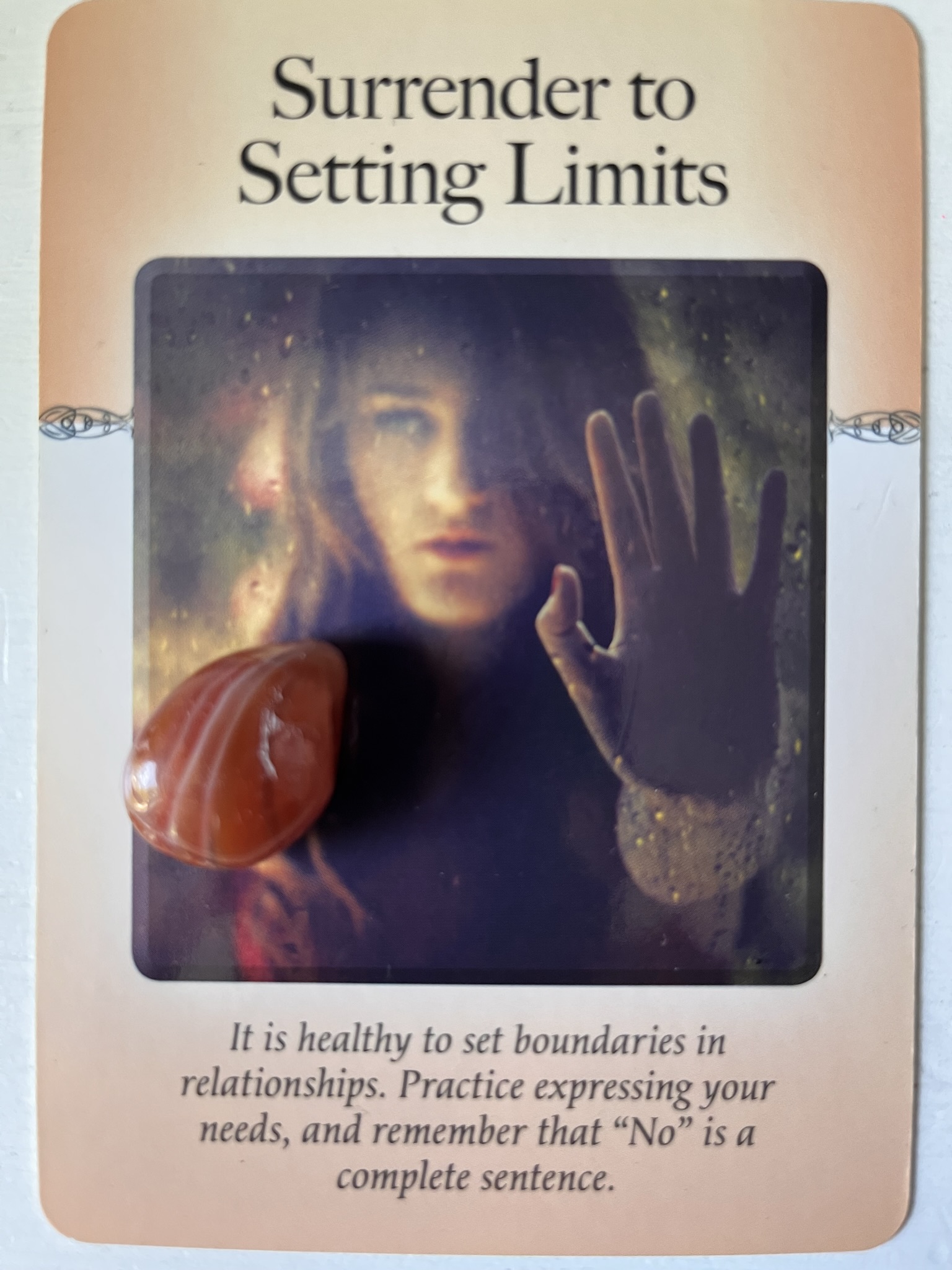 Surrender to Setting Limits
It is healthy to set boundaries in
relationships. Practice expressing your needs, and remember that "No" is a complete sentence.
Surrendering to setting limits involves recognizing and accepting the importance of establishing healthy boundaries in your relationships. Boundaries are essential for maintaining your well-being, ensuring mutual respect, and fostering strong connections with others. By setting limits, you can communicate your needs, protect your emotional and mental health, and create a more balanced and fulfilling life. Here are some ways to practice surrendering to setting limits in your relationships:
Self-awareness: Begin by understanding your own needs, values, and limits. Reflect on past experiences and relationships to identify situations in which you felt uncomfortable or compromised, and consider what boundaries would have been helpful in those cases.
Communicate your boundaries: Clearly express your limits to others in a respectful and assertive manner. It is essential to be honest and direct when sharing your needs, as this will help prevent misunderstandings and create a foundation of trust.
Be consistent: Consistently enforce your boundaries to ensure they are respected by others. This may involve repeating your needs and limits if they are not acknowledged or adhered to initially.
Remember that "No" is a complete sentence: You have the right to say "no" without providing an explanation or justification. While it may be difficult at first, learning to assertively say "no" is an essential skill for maintaining healthy boundaries.
Prioritize self-care: Setting boundaries often involves making choices that prioritize your well-being, even if it means disappointing or upsetting others. Remember that taking care of yourself is not selfish; it is necessary for your overall health and happiness.
Practice flexibility: While it is crucial to have clear boundaries, it's also important to recognize that relationships and circumstances can change over time. Be open to reassessing and adjusting your boundaries as needed to accommodate evolving needs and situations.
Seek support: Surround yourself with people who respect and support your boundaries. You can also seek guidance from a therapist or counselor to help you develop effective boundary-setting strategies and navigate challenging situations.
Model healthy boundaries: By setting and maintaining your own boundaries, you demonstrate to others the importance of respecting limits in relationships. This can encourage them to establish their own healthy boundaries and contribute to a more positive, supportive environment.
Surrendering to setting limits is an essential aspect of maintaining healthy relationships and protecting your mental and emotional well-being. By practicing assertive communication, consistency, and self-awareness, you can establish boundaries that promote mutual respect, understanding, and growth in your connections with others.
YouTube - Morning Compass Surrender
Get Your Own Surrender Cards
Try to buy local, if not available use the link below: