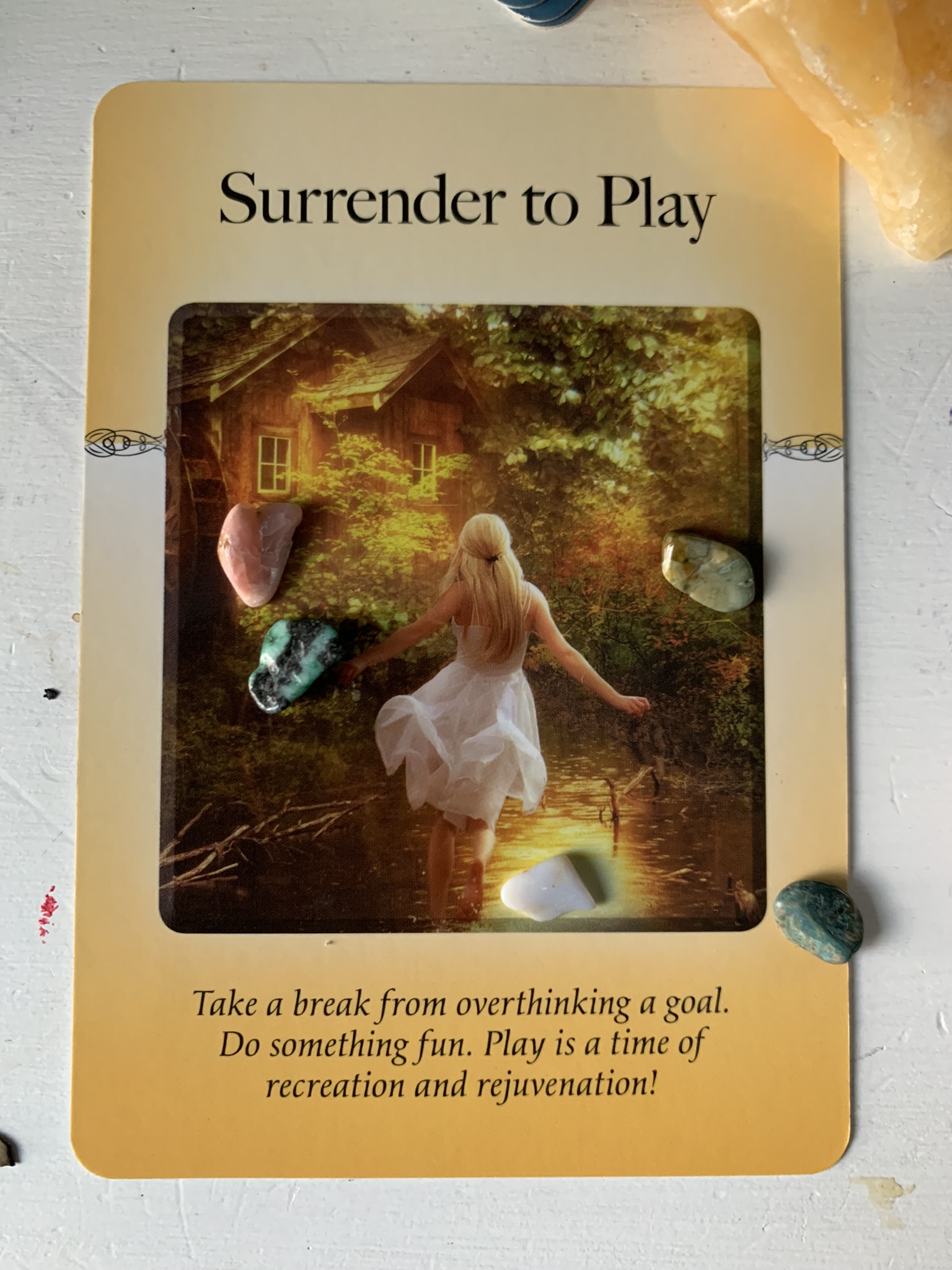 Surrender to Play
Take a break from overthinking a goal.  Do something fun. Play is a time of recreation and rejuvenation!
Surrendering to play involves allowing yourself to take a break from constant goal-chasing and engaging in activities that bring joy, relaxation, and rejuvenation. Embracing play can improve your overall well-being, boost your creativity, and help you maintain a balanced and fulfilling life. Here are some strategies for surrendering to play:
Schedule regular breaks: Make a conscious effort to incorporate breaks into your daily routine, setting aside time for activities that bring you joy, relaxation, or excitement.
Discover your interests: Identify hobbies, activities, or pastimes that genuinely bring you joy and ignite your passion. These could include sports, artistic pursuits, games, or spending time in nature.
Embrace spontaneity: Allow yourself to occasionally engage in spontaneous activities, breaking free from your daily routine and embracing the excitement of unplanned adventures.
Connect with others: Share playtime with friends, family members, or colleagues. Participating in group activities can enhance social connections, create lasting memories, and promote a sense of community and belonging.
Cultivate a playful mindset: Approach life with a sense of curiosity, wonder, and humor. By adopting a playful mindset, you can more easily find joy and fun in everyday situations.
Balance work and play: Strive to maintain a healthy balance between your personal and professional life, ensuring that you make time for relaxation and recreation in addition to work responsibilities.
Learn to let go: Release any guilt or feelings of unworthiness associated with taking time for yourself and engaging in play. Recognize that play is essential for your mental, emotional, and physical well-being.
Be present: Fully immerse yourself in the activity at hand, letting go of any worries or concerns about your goals or responsibilities. By being present, you can fully enjoy the rejuvenating benefits of play.
Revisit your inner child: Reflect on the activities and pastimes you enjoyed as a child and consider incorporating them into your adult life. Reconnecting with your inner child can help you rediscover the joy and wonder of play.
Recognize the benefits: Acknowledge the numerous benefits that play can provide, such as stress relief, improved cognitive function, increased creativity, and enhanced relationships. By appreciating these benefits, you can make play an essential aspect of your self-care routine.
Surrendering to play is about taking a break from the constant pursuit of goals and embracing activities that bring joy, relaxation, and rejuvenation. By incorporating play into your daily life, you can achieve a healthier balance, boost your creativity, and improve your overall well-being. Give yourself permission to play, and experience the transformative power of recreation and leisure.
YouTube - Morning Compass Surrender
Get Your Own Surrender Cards
Try to buy local, if not available use the link below: