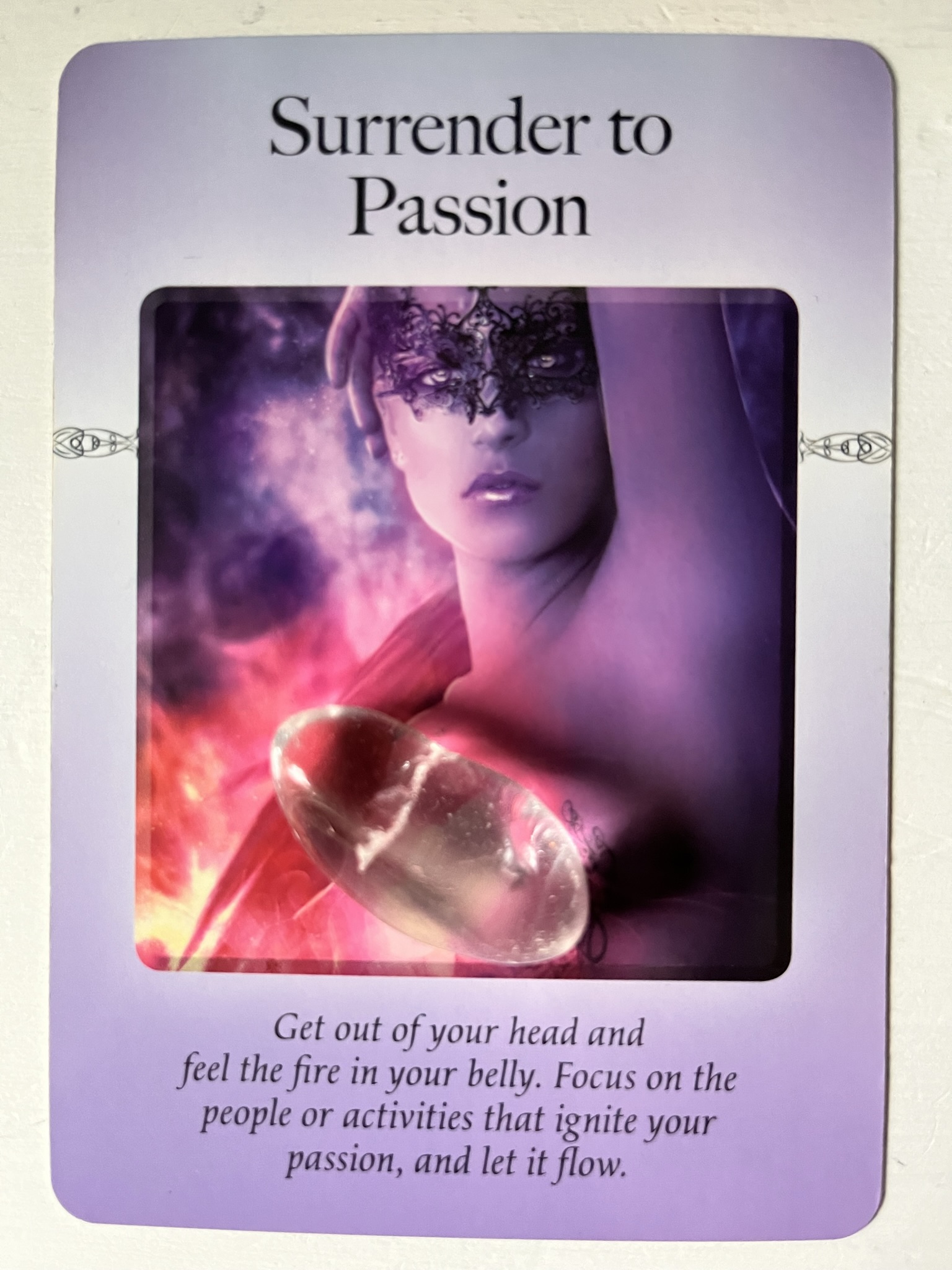 Surrender to Passion
Get out of your head and feel the fire in your belly. Focus on the people or activities that ignite your passion, and let it flow.
Surrendering to passion means allowing yourself to fully embrace and engage with the activities, interests, and people that ignite your enthusiasm and energy. By stepping out of your own head and focusing on what truly excites you, you can experience a deeper sense of fulfillment, joy, and purpose in life. Here are some strategies for surrendering to passion:
Identify your passions: Reflect on the activities, interests, or people that evoke a strong sense of enthusiasm and excitement in you. Make a list of these passions and consider how you can prioritize and incorporate them into your daily life.
Be present and engaged: When engaging with your passions, practice mindfulness and be fully present in the moment. By immersing yourself in the experience, you can fully appreciate and enjoy the feelings of passion and excitement.
Break free from self-imposed limitations: Challenge any limiting beliefs or fears that may be holding you back from pursuing your passions. Embrace the idea that you are deserving of joy and fulfillment and allow yourself to explore new possibilities without constraints.
Make time for your passions: Create space in your schedule to dedicate time and energy to the activities and people that ignite your passion. By prioritizing what truly matters to you, you can foster a more balanced and fulfilling life.
Share your passion with others: Connect with like-minded individuals who share your interests and passions. By engaging with others who share your enthusiasm, you can amplify your own passion and create a supportive and inspiring community.
Continuously learn and grow: Embrace the opportunity for growth and learning within your passions. Continually seek out new information, experiences, and challenges that can help you expand your knowledge, skills, and understanding.
Be open to change and adaptation: Recognize that your passions may evolve over time, and be open to exploring new interests and activities. By staying flexible and adaptable, you can continue to grow and evolve alongside your passions.
Cultivate self-awareness: Reflect on how your passions align with your core values, strengths, and goals. By understanding the deeper motivations behind your passions, you can foster a stronger sense of purpose and direction in life.
Create a supportive environment: Surround yourself with people and resources that encourage and support your passions. This supportive environment can help you overcome obstacles, maintain motivation, and stay inspired.
Embrace vulnerability: Pursuing your passions may involve taking risks and stepping outside of your comfort zone. Embrace vulnerability as an opportunity for growth, self-discovery, and personal transformation.
By surrendering to passion, you can experience a richer, more fulfilling life that is driven by enthusiasm, energy, and purpose. Embracing your passions allows you to connect with your authentic self, cultivate deeper connections with others, and pursue a life that is truly aligned with your values and aspirations.
YouTube - Morning Compass Surrender
Get Your Own Surrender Cards
Try to buy local, if not available use the link below: