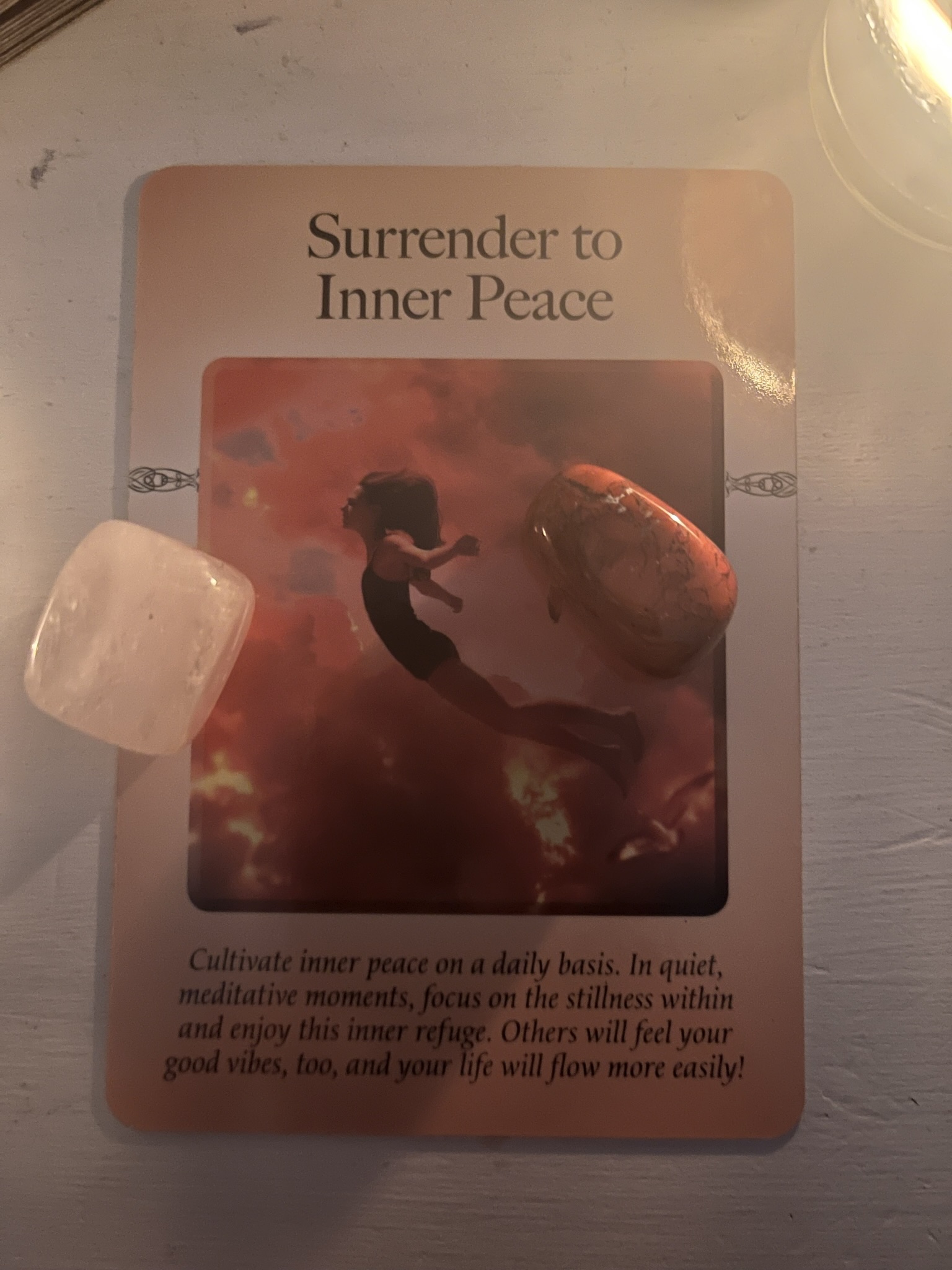 Surrender to Inner Peace
Cultivate inner peace on a daily basis. In quiet, meditative moments, focus on the stillness within and enjoy this inner refuge Others will feel your
good vibes, too, and your life will flow more easily!
Surrendering to inner peace involves cultivating a sense of calm and serenity within yourself, regardless of the external circumstances. By prioritizing inner peace, you can enhance your well-being, improve your relationships, and navigate life's challenges with greater ease and grace. Here are some strategies to help you surrender to inner peace and enjoy the benefits of a more tranquil, centered life:
Practice mindfulness: Engage in mindfulness techniques, such as meditation or focused breathing, to help you become more present and aware of your thoughts and emotions. By practicing mindfulness regularly, you can cultivate a more peaceful, centered mindset.
Create a daily meditation routine: Dedicate a specific time each day for meditation, where you can focus on your breath, observe your thoughts, and connect with the stillness within. Regular meditation can help you develop a deeper sense of inner peace and tranquility.
Cultivate gratitude: Focus on the positive aspects of your life and express gratitude for your blessings, accomplishments, and relationships. By cultivating an attitude of gratitude, you can shift your perspective and promote a more peaceful state of mind.
Practice self-compassion: Treat yourself with kindness, understanding, and patience, recognizing that you, like everyone else, are imperfect and prone to mistakes. Embracing self-compassion can help you foster a more loving, peaceful relationship with yourself.
Engage in calming activities: Make time for activities that promote relaxation and tranquility, such as yoga, tai chi, or spending time in nature. These practices can help you connect with your inner peace and create a more balanced, serene lifestyle.
Nurture positive relationships: Surround yourself with people who uplift, support, and inspire you. Healthy, supportive relationships can contribute to a greater sense of inner peace and overall well-being.
Manage stress effectively: Develop healthy coping strategies for managing stress, such as exercise, deep breathing, or engaging in creative outlets. By effectively managing stress, you can maintain a more peaceful, centered state of mind.
Set boundaries: Establish clear boundaries with others to protect your energy and maintain your sense of inner peace. Communicate your needs and expectations, and be willing to say no when necessary.
Practice forgiveness: Let go of resentment and anger by practicing forgiveness, both towards yourself and others. By releasing negative emotions and embracing forgiveness, you can create more space for inner peace and emotional healing.
Prioritize self-care: Invest in your physical, emotional, and mental well-being by engaging in regular self-care practices. Prioritizing self-care can help you maintain a more peaceful, balanced state of mind and support your overall well-being.
By surrendering to inner peace, you can enjoy a more harmonious, fulfilling life and positively impact those around you. Practicing mindfulness, cultivating gratitude, and prioritizing self-care are essential strategies for maintaining a peaceful, centered mindset and experiencing the benefits of inner peace on a daily basis.
YouTube - Morning Compass Surrender
Get Your Own Surrender Cards
Try to buy local, if not available use the link below: