Surrender the Idea You Can Fix Someone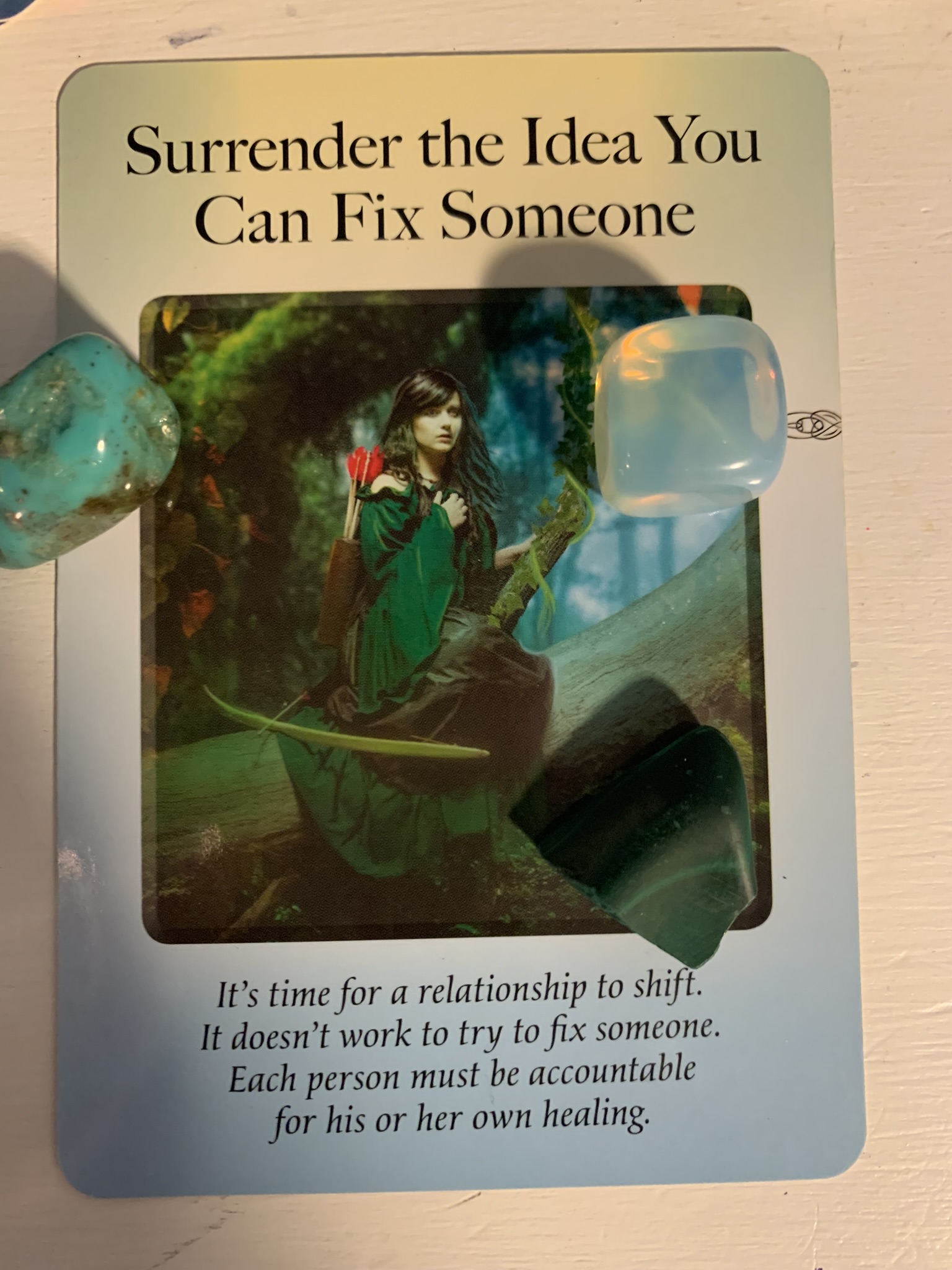 Surrender the Idea You Can Fix Someone
It's time for a relationship to shift. It doesn't work to try to fix someone.  Each person must be accountable for his or her own healing.
Surrendering the idea that you can fix someone involves recognizing and accepting the limits of your influence and control over others. It's important to understand that every individual is responsible for their own growth and healing. This realization can lead to healthier relationships and a more balanced approach to supporting those around you.
Here are some strategies for surrendering the idea that you can fix someone:
Cultivate self-awareness: Recognize your own patterns, beliefs, and motivations that may be contributing to the desire to fix someone else. By understanding the underlying reasons for this inclination, you can work on changing your own behavior and expectations.
Accept others as they are: Embrace the reality that people are complex, imperfect beings with their unique strengths and weaknesses. By accepting others for who they are, you can foster more genuine connections and compassion while letting go of unrealistic expectations.
Set healthy boundaries: Establish clear boundaries that define your role and responsibilities in a relationship. By doing so, you can prevent yourself from taking on too much of another person's burden and maintain a sense of balance and well-being.
Focus on your own growth: Instead of trying to fix someone else, concentrate on your personal growth and self-improvement. This shift in focus can help you become more self-aware, resilient, and better equipped to support others in a healthy way.
Encourage personal accountability: Encourage your loved ones to take responsibility for their own actions, decisions, and emotions. This approach fosters a sense of empowerment and agency, allowing each person to be accountable for their own healing and growth.
Offer support, not solutions: Rather than attempting to fix someone's problems, offer your support, understanding, and encouragement. Listen actively, validate their emotions, and be a compassionate presence in their life.
Recognize the limits of your control: Understand that you cannot control or change someone else's thoughts, feelings, or behaviors. By acknowledging the limits of your influence, you can let go of the need to fix others and focus on what you can control—your own actions and responses.
Practice patience and empathy: Be patient with others as they navigate their healing journey and empathize with the challenges they may face. Recognize that personal growth and change take time and often involve setbacks and struggles.
Seek professional help if needed: If a loved one is struggling with a complex or severe issue, encourage them to seek professional help from a therapist or counselor. These professionals can provide the guidance, support, and resources needed for effective healing and growth.
Embrace the journey: Understand that personal growth and healing are ongoing processes that involve both successes and failures. By embracing the journey, you can cultivate a more balanced and compassionate approach to supporting others in their path.
By surrendering the idea that you can fix someone, you can foster healthier relationships built on mutual respect, understanding, and personal accountability. This approach allows for a more balanced and supportive dynamic that encourages each individual to take responsibility for their own healing and growth.
YouTube - Morning Compass Surrender
Get Your Own Surrender Cards
Try to buy local, if not available use the link below: