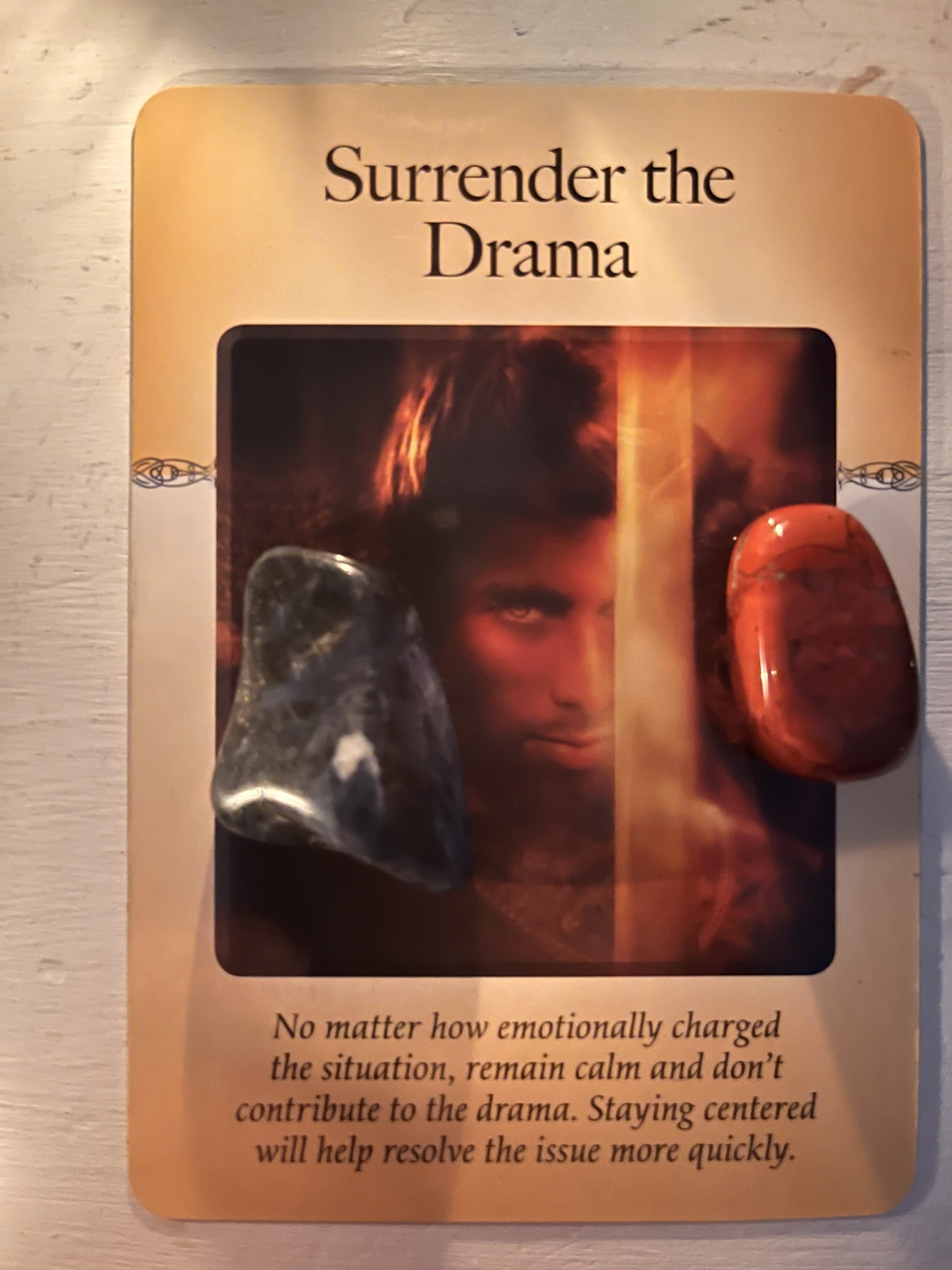 Surrender the Drama
No matter how emotionally charged
the situation, remain calm and don't
contribute to the drama. Staying centered will help resolve the issue more quickly.
Surrendering the drama involves maintaining a sense of calm and composure in emotionally charged situations, rather than getting swept up in the chaos and intensity. By staying centered and balanced, you can contribute to resolving conflicts more effectively and promote healthier, more harmonious relationships. Here are some strategies to help you surrender the drama and remain grounded in difficult situations:
Cultivate self-awareness: Develop an understanding of your emotions, reactions, and triggers, which can help you recognize when you are at risk of getting caught up in drama. This self-awareness will allow you to respond more consciously and intentionally in emotionally charged situations.
Practice deep breathing: In moments of tension, use deep breathing exercises to help calm your nervous system and regain control over your emotions. Slow, focused breaths can help you stay centered and maintain a clear perspective during conflicts.
Pause and reflect: Before responding to a situation, take a moment to pause and consider the potential consequences of your actions. This brief reflection can help prevent impulsive reactions that might escalate the drama.
Set boundaries: Establish clear boundaries with others to protect yourself from unnecessary drama. This may involve asserting your limits, removing yourself from toxic situations, or communicating your expectations regarding respectful behavior.
Listen actively: In conflict situations, strive to listen actively and empathetically to the other person's perspective. By demonstrating genuine interest and understanding, you can help de-escalate the drama and facilitate open, honest communication.
Respond calmly and assertively: Communicate your thoughts and feelings in a calm, respectful, and assertive manner. Avoid aggressive or passive-aggressive behaviors that might contribute to the drama, and focus on expressing yourself clearly and authentically.
Maintain perspective: Remind yourself that emotions can be fleeting and that most conflicts will eventually pass. By keeping a broader perspective, you can avoid getting consumed by the drama and maintain a sense of balance.
Seek common ground: Focus on finding common ground and shared interests with others, rather than getting entangled in disagreements or conflicts. This can help foster a more collaborative and harmonious atmosphere.
Practice self-care: Prioritize your own emotional and mental well-being by engaging in self-care practices, such as exercise, meditation, or spending time with loved ones. A strong foundation of self-care can help you stay grounded and resilient in the face of drama.
Develop healthy coping mechanisms: Cultivate effective strategies for managing stress and emotions, such as journaling, mindfulness, or seeking support from a therapist or counselor. These coping mechanisms can help you navigate and resolve conflicts more effectively.
By surrendering the drama, you can maintain a sense of calm and balance in emotionally charged situations, ultimately contributing to more effective conflict resolution and healthier relationships. Practicing self-awareness, setting boundaries, and developing healthy coping mechanisms are key strategies for staying centered and grounded in the face of drama.
YouTube - Morning Compass Surrender
Get Your Own Surrender Cards
Try to buy local, if not available use the link below: