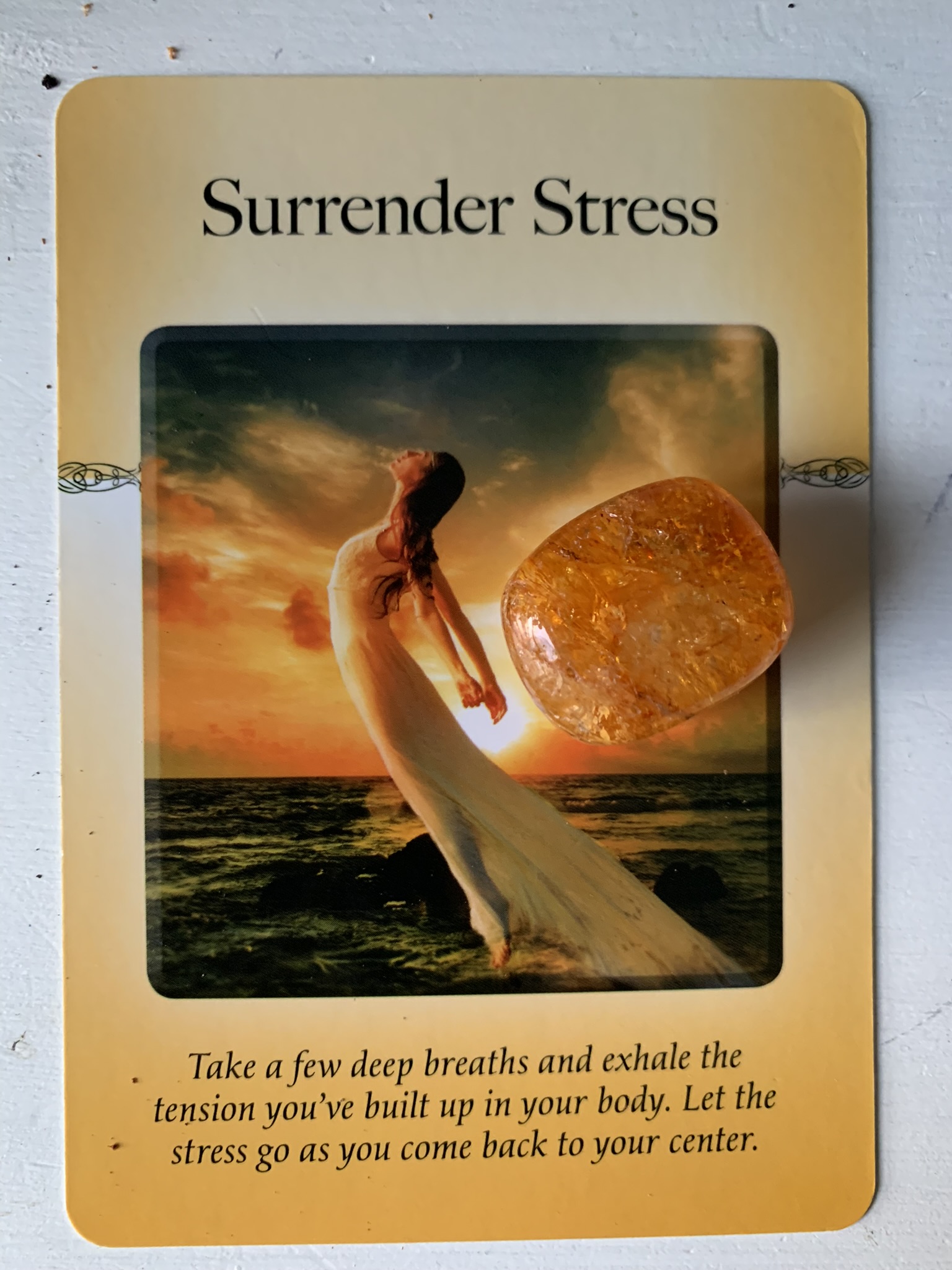 Surrender Stress
Take a few deep breaths and exhale the tension you've built up in your body. Let the stress go as you come back to your center.
Surrendering stress involves recognizing and releasing the mental, emotional, and physical tension that accumulates in your body as a result of daily pressures, responsibilities, and challenges. Learning to let go of stress can significantly improve your overall well-being and help you regain a sense of balance and tranquility. Here are some strategies to help you surrender stress and find your center:
Deep breathing exercises: Focused, deep breaths can help calm your nervous system and reduce stress. Try inhaling slowly for a count of four, holding your breath for a count of four, and then exhaling for a count of four. Repeat this process several times to help release tension and bring your body and mind back to a relaxed state.
Progressive muscle relaxation: This technique involves tensing and relaxing different muscle groups in your body to release stress and promote relaxation. Starting with your toes and working your way up to your head, tense each muscle group for a few seconds and then release, allowing the tension to dissipate.
Mindfulness meditation: Practice mindfulness by focusing your attention on the present moment, observing your thoughts, feelings, and bodily sensations without judgment. This can help you cultivate awareness and acceptance of your stress while promoting a sense of inner calm.
Engage in physical activity: Exercise is a proven stress reducer that can help release built-up tension and improve your overall mood. Choose activities you enjoy, such as walking, jogging, swimming, or yoga, and incorporate them into your daily routine.
Establish a relaxation routine: Dedicate time each day to unwind and practice stress-reducing activities, such as reading, taking a warm bath, or engaging in a creative hobby. Creating a relaxation routine can help you decompress and manage stress more effectively.
Connect with nature: Spend time outdoors, surrounded by natural environments like parks, forests, or bodies of water. Nature has a calming effect on the mind and can help you find tranquility and balance.
Prioritize self-care: Ensure you are meeting your basic needs for sleep, nutrition, and social connection. By taking care of your physical and emotional well-being, you can build resilience against stress and its negative effects.
Seek support: Reach out to friends, family, or a mental health professional to discuss your stress and gain perspective. Sharing your feelings and concerns with others can provide relief and help you develop effective coping strategies.
Set boundaries: Establish and maintain healthy boundaries in your personal and professional life to prevent excessive stress and burnout. This may involve delegating tasks, saying "no" to additional responsibilities, or taking breaks when needed.
By surrendering stress, you can regain a sense of calm and balance in your life. Practicing deep breathing exercises, engaging in relaxation techniques, and prioritizing self-care are just a few ways to help manage stress and promote overall well-being.
YouTube - Morning Compass Surrender
Get Your Own Surrender Cards
Try to buy local, if not available use the link below: