Surrender Negative Thinking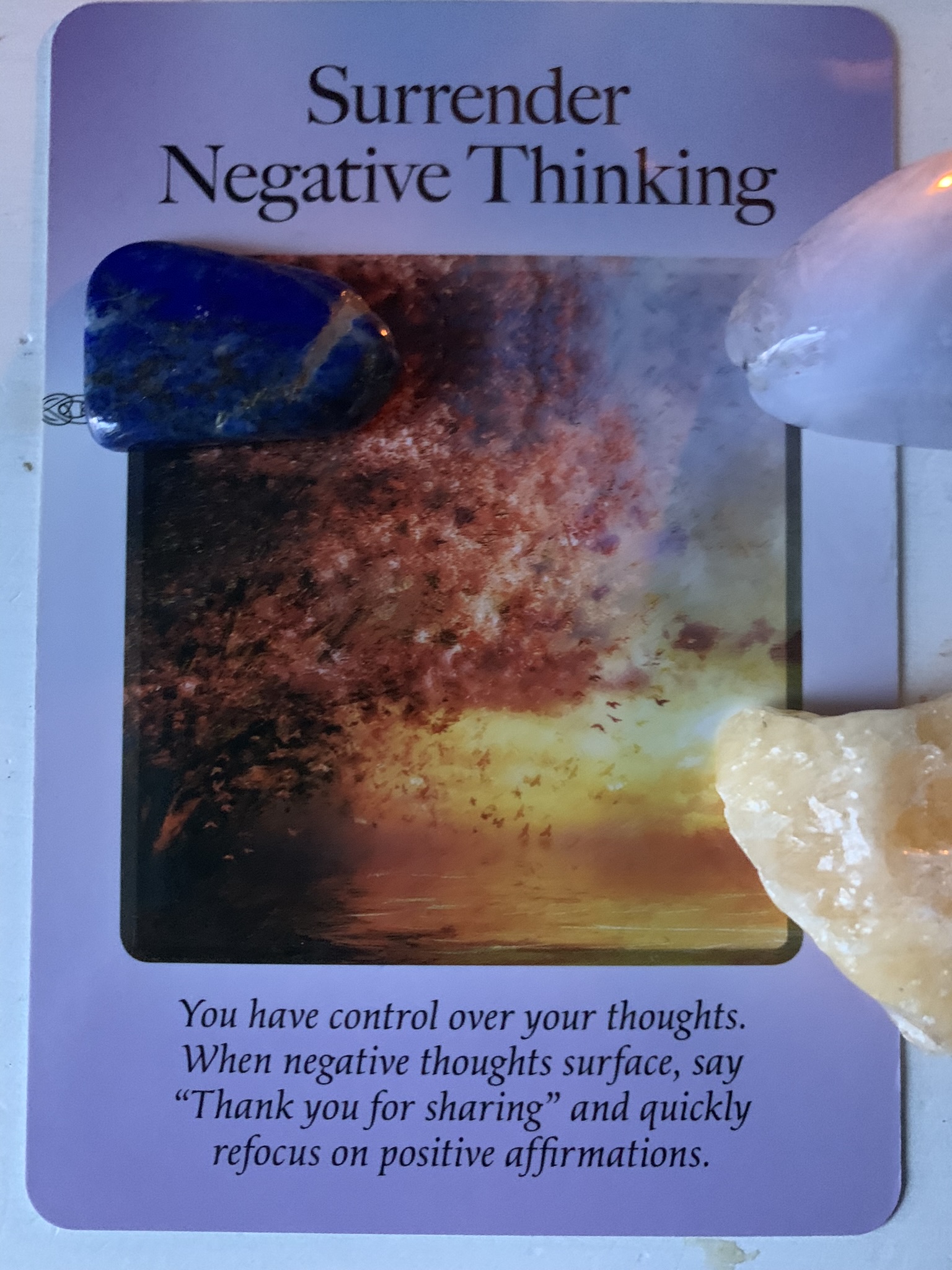 Surrender Negative Thinking
You have control over your thoughts.
When negative thoughts surface, say
"Thank you for sharing" and quickly
refocus on positive affirmations.
Surrendering negative thinking involves acknowledging and letting go of unhelpful thought patterns and intentionally refocusing your attention on more positive and constructive thoughts. By doing so, you can cultivate a more optimistic mindset and improve your overall well-being. Here are some strategies for surrendering negative thinking:
Develop self-awareness: Begin by paying attention to your thoughts and recognizing when negative patterns arise. Becoming aware of these patterns is the first step in learning how to let them go.
Accept and acknowledge negative thoughts: When a negative thought surfaces, acknowledge its presence without judgment or resistance. Simply saying, "Thank you for sharing" allows you to recognize the thought without giving it power over your emotions.
Reframe your thoughts: Practice reframing negative thoughts into more positive, constructive ones. For example, instead of thinking, "I can't do this," try, "I can learn and improve with practice."
Use positive affirmations: Replace negative thoughts with positive affirmations that promote self-confidence and optimism. Affirmations can be simple statements such as, "I am capable," "I am worthy," or "I am enough."
Practice mindfulness and meditation: Engage in regular mindfulness or meditation practices to help you become more present and aware of your thoughts, making it easier to recognize and release negative patterns.
Surround yourself with positivity: Spend time with people who uplift and encourage you, and engage in activities that bring you joy and fulfillment. A positive environment can help counteract negative thinking.
Focus on gratitude: Cultivate an attitude of gratitude by regularly reflecting on the positive aspects of your life. This can help shift your focus away from negativity and promote a more optimistic outlook.
Set realistic expectations: Unrealistic expectations can contribute to negative thinking. Practice setting attainable goals and adjusting your expectations to better align with reality.
Seek professional help if needed: If negative thinking becomes pervasive and affects your overall well-being, consider seeking the help of a mental health professional to develop coping strategies and explore underlying causes.
Be patient and compassionate with yourself: Remember that changing thought patterns takes time and practice. Be patient with yourself as you work on surrendering negative thinking, and treat yourself with kindness and compassion throughout the process.
Surrendering negative thinking requires developing self-awareness, accepting and acknowledging negative thoughts, and actively reframing them into more positive, constructive ones. By practicing mindfulness, surrounding yourself with positivity, and focusing on gratitude, you can gradually shift your mindset and cultivate a more optimistic outlook on life. It's important to be patient and compassionate with yourself during this process, as changing thought patterns takes time and consistent effort. If negative thinking becomes overwhelming, seeking professional help can provide additional support and guidance.
YouTube - Morning Compass Surrender
Get Your Own Surrender Cards
Try to buy local, if not available use the link below: