Surrender Low Self-Esteem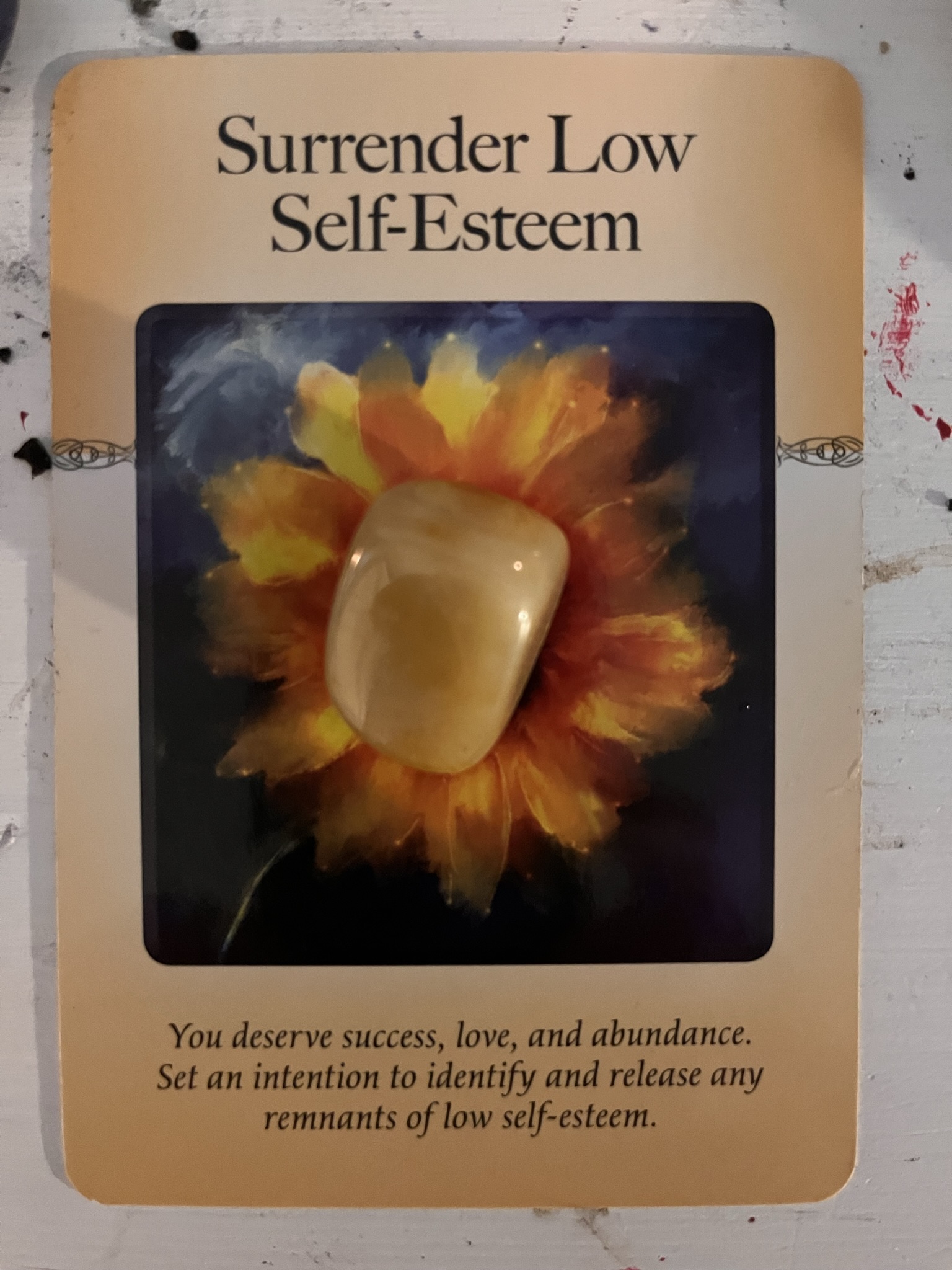 Surrender Low Self-Esteem
You deserve success, love, and abundance.  Set an intention to identify and release any remnants of low self-esteem.
Surrendering low self-esteem involves letting go of negative beliefs and self-talk that can limit your sense of self-worth and potential. By identifying and releasing these patterns, you can cultivate a stronger, more positive self-image that empowers you to achieve success, experience love, and attract abundance in your life. Here are some strategies to help you surrender low self-esteem:
Recognize negative self-talk: Begin by paying attention to the thoughts and beliefs that may be contributing to your low self-esteem. Notice any negative self-talk or limiting beliefs that arise, and challenge them with positive, affirming statements.
Reframe past experiences: Reexamine past experiences that may have contributed to your low self-esteem, and look for opportunities to reframe these experiences in a more positive light. Consider how you can learn from these experiences and use them to foster growth and resilience.
Develop self-compassion: Practice self-compassion by treating yourself with kindness, understanding, and patience. Recognize that everyone makes mistakes and that self-criticism is not an effective means of fostering growth or improvement.
Focus on strengths: Identify your strengths and positive qualities, and focus on these attributes rather than fixating on perceived weaknesses or shortcomings. Celebrate your accomplishments, no matter how small, and recognize your inherent worthiness.
Set positive intentions: Set positive intentions for yourself, focusing on what you want to achieve and how you want to feel. Create affirmations that reflect your positive self-image and repeat them regularly to reinforce these beliefs.
Practice gratitude: Cultivate a gratitude practice by focusing on the positive aspects of your life and recognizing the contributions of others. Gratitude can help shift your focus from self-doubt to appreciation and foster a more positive mindset.
Engage in positive self-care: Prioritize self-care activities that nurture your body, mind, and spirit, such as exercise, healthy eating, restorative sleep, and relaxation techniques. These practices can help boost your self-esteem and promote overall well-being.
Seek support: Surround yourself with supportive people, such as friends, family, or a therapist, who can provide encouragement, understanding, and validation as you work to overcome low self-esteem.
Challenge perfectionism: Recognize that perfectionism is often driven by a fear of failure or rejection and can contribute to low self-esteem. Challenge yourself to embrace imperfection and view mistakes as opportunities for growth and learning.
Surrender to the process: Trust the process of cultivating a positive self-image and let go of the need for immediate results or perfection. Embrace the journey and the challenges that may arise, knowing that every step forward is a victory in itself.
By surrendering low self-esteem, you can cultivate a more positive, empowering self-image that promotes success, love, and abundance in your life. Practicing self-compassion, focusing on strengths, and engaging in positive self-care are essential strategies for identifying and releasing negative beliefs and self-talk, allowing you to fully embrace your inherent worthiness and potential.
YouTube - Morning Compass Surrender
Get Your Own Surrender Cards
Try to buy local, if not available use the link below: