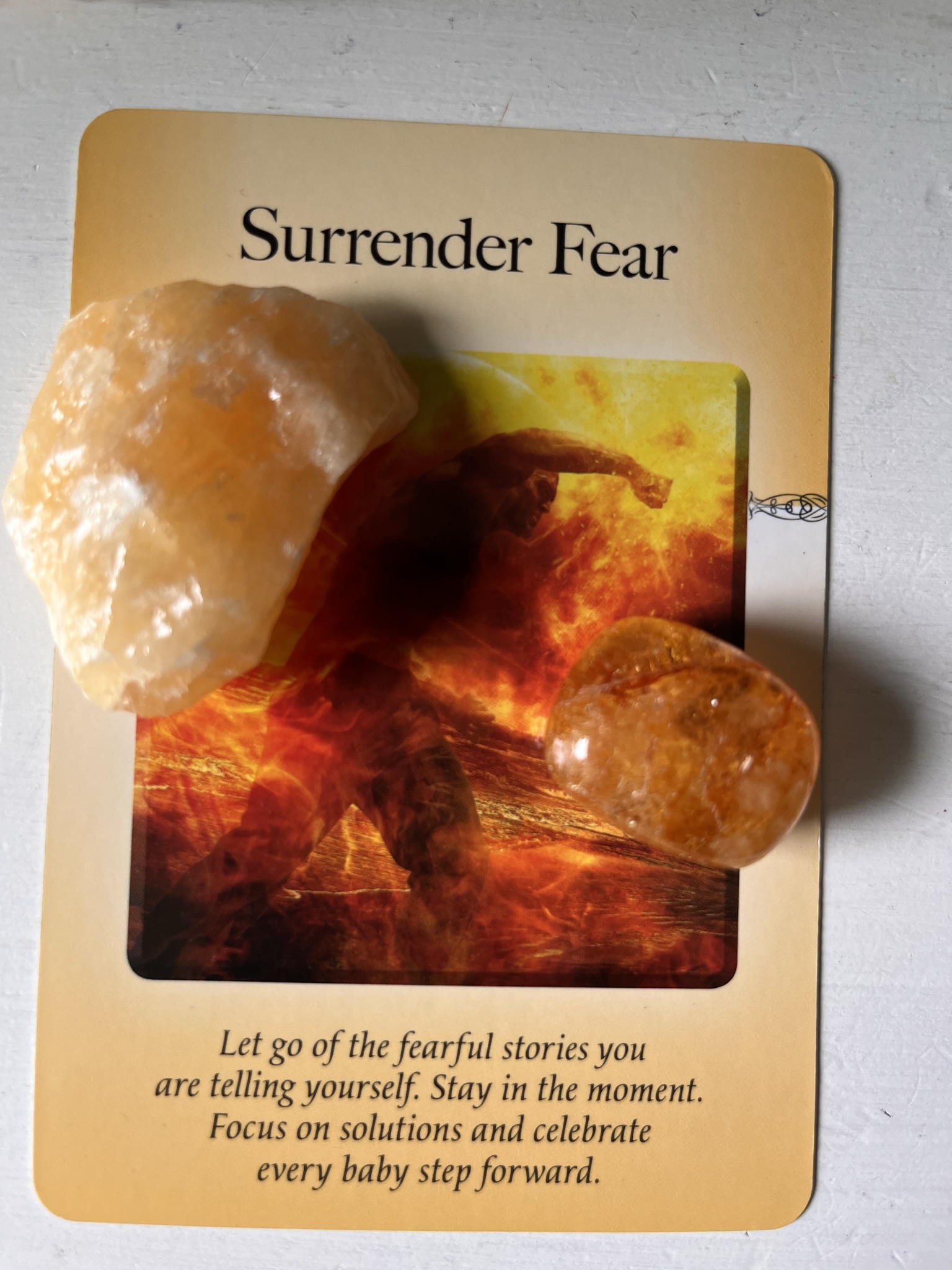 Surrender Fear
Let go of the fearful stories you
are telling yourself. Stay in the moment.  Focus on solutions and celebrate every baby step forward.
Surrendering fear involves releasing the negative narratives and anxieties that hold you back, and instead choosing to focus on the present moment, finding solutions, and celebrating your progress. Overcoming fear can lead to a more fulfilling, courageous, and empowered life. Here are some strategies to help you surrender fear and embrace a more positive, fearless mindset:
Acknowledge your fears: Recognize and accept the fears you are experiencing without judgment. Give yourself permission to feel these emotions, understanding that it's natural to have fears and concerns.
Challenge negative thoughts: Identify any irrational or negative thoughts that contribute to your fears. Evaluate their validity and replace them with more realistic, positive thoughts and affirmations.
Stay in the present moment: Practice mindfulness techniques, such as deep breathing, meditation, or grounding exercises, to help you stay focused on the present moment and avoid getting lost in fearful thoughts about the future.
Focus on solutions: Instead of dwelling on your fears, concentrate on finding solutions to the challenges you face. By adopting a problem-solving mindset, you can build confidence and resilience, making it easier to overcome fear.
Break tasks into smaller steps: Break down daunting tasks or goals into smaller, more manageable steps. This approach can help you build momentum and confidence as you work toward your objectives, making it easier to overcome fear.
Celebrate progress: Acknowledge and celebrate your achievements, no matter how small they may seem. By focusing on your progress and recognizing your accomplishments, you can build self-confidence and reinforce your ability to overcome fear.
Seek support: Share your fears and concerns with trusted friends, family members, or a therapist. Having a support network can provide encouragement, validation, and guidance, helping you to manage fear more effectively.
Develop coping strategies: Cultivate healthy coping mechanisms, such as exercise, journaling, or practicing relaxation techniques, to help you manage fear and anxiety. These strategies can provide a sense of control and stability during challenging times.
Take calculated risks: Face your fears by taking calculated risks and stepping outside your comfort zone. By challenging yourself and pushing your boundaries, you can build resilience and gain confidence in your ability to overcome fear.
Embrace a growth mindset: Adopt a growth mindset, viewing setbacks and challenges as opportunities for personal growth and learning. This perspective can help you to approach fear with curiosity and resilience, rather than allowing it to hold you back.
By surrendering fear and adopting a more positive, empowered mindset, you can create a more fulfilling and courageous life. Practicing mindfulness, focusing on solutions, and celebrating your progress are essential strategies for overcoming fear and embracing a more fearless approach to life's challenges.
YouTube - Morning Compass Surrender
Get Your Own Surrender Cards
Try to buy local, if not available use the link below: